King of Europe
Black Sea Challenge 2012
July 8, 2012
Ukraine, Odessa
King of Europe came to Odessa, Ukraine. The 4th round Black Sea Challenge 2012 took place on 7 and 8 of July, 2012. The first time a drift competition of such level was carried out in Ukraine. The local partner responsible for organization was Drift Edition.
[1]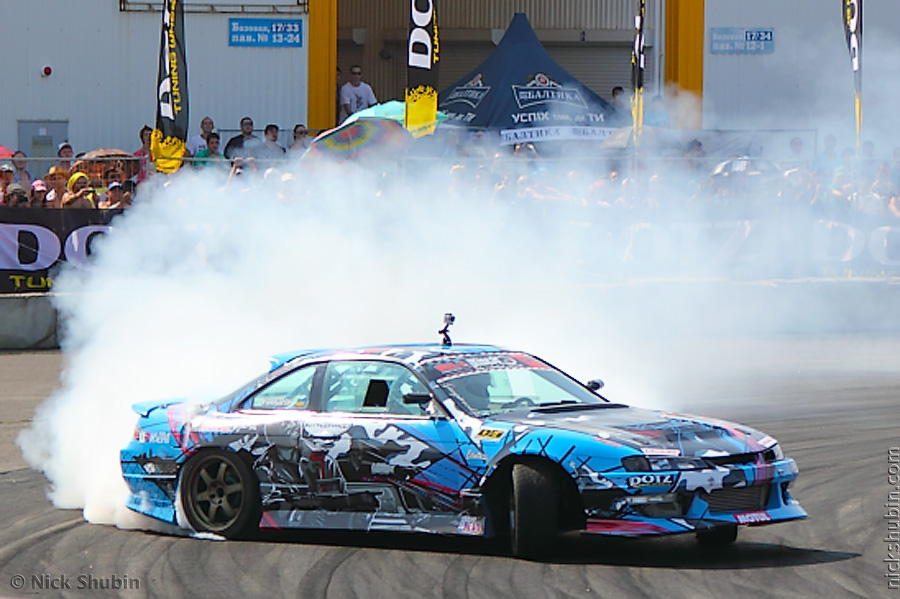 The event was held on the parking of a shopping center. It's seven kilometers from the city center.
In the beginning, the number of guests was underestimated. During the races the organizers had to add more chairs on the VIP stand. I hope that such interest to this competition will become a good reason to conduct it in Odessa in the future.
One thing which annoyed me was the fence around the track. Being too high it didn't allow to take photos when cars passed nearby.
Unlike European traces, the configuration of this one was quite simple—it had only one left turn for drifting. The visitors couldn't see the start.
[2]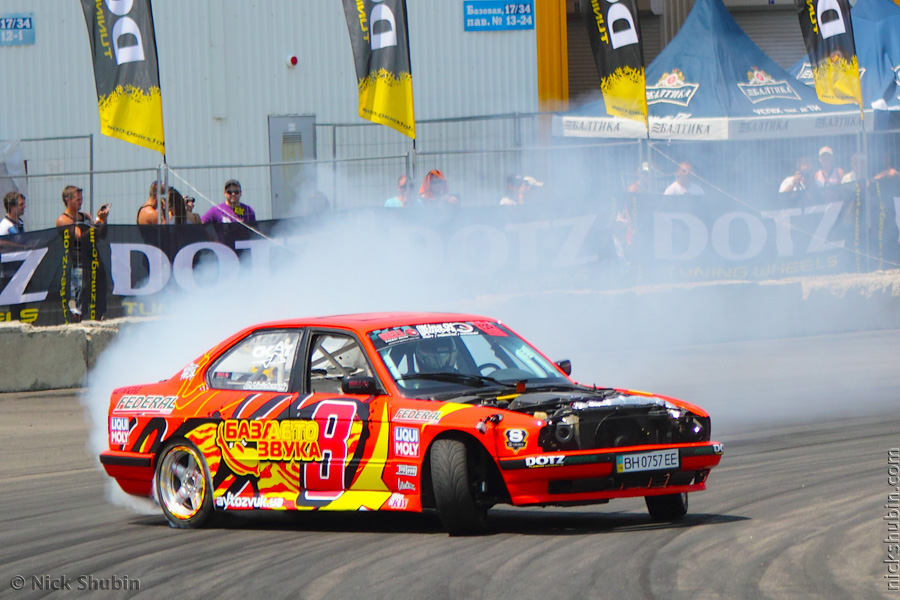 Dmitry Illyuk rides Nissan S13, Odessa, Ukraine. Since most of guests were from Odessa, they supported him in particular.
[3]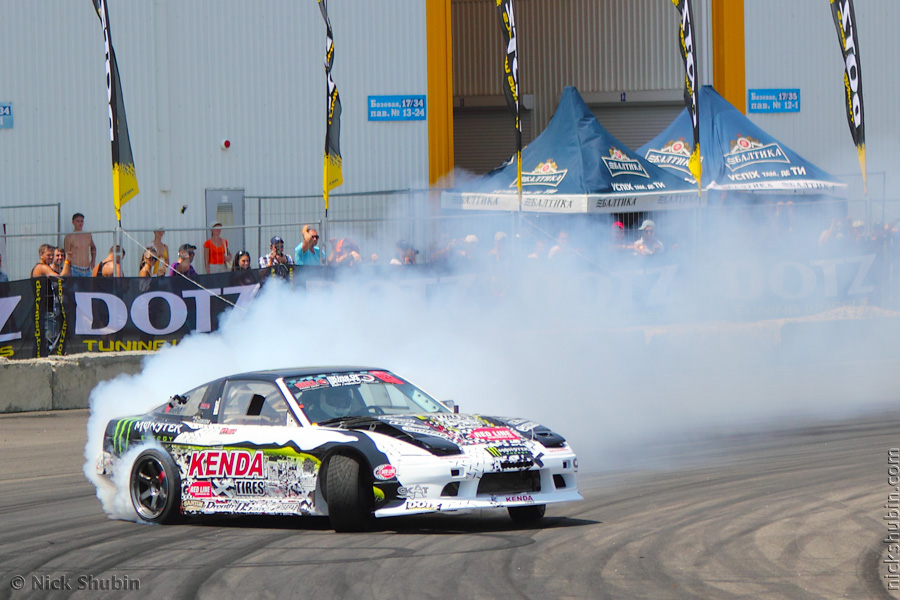 BMW E36 M5 of French pilot Benjamin Boulbes. He is one of the best pilots in the King of Europe series. After the fourth round (Rd4), he took the second place after Francessco Conti (Italy). BMW and Nissan are the most popular cars at King of Europe. To the end of Rd4, Benjamin Boulbes' car was considered as "Dotz Best Looking Car Challenge".
[4]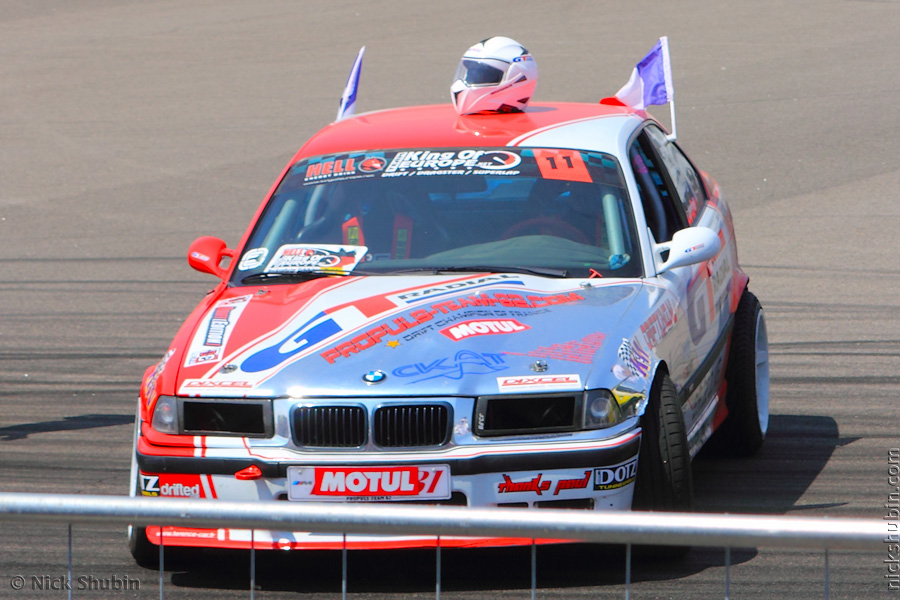 Roman Kolesar (Slovakia) near his BMW E46 M3.
[5]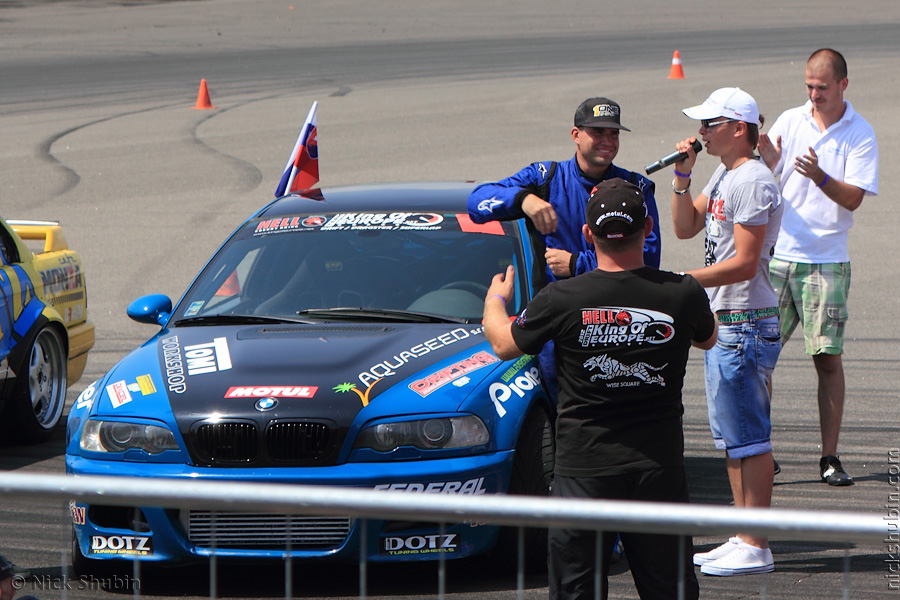 Benjamin Boulbes, France.
[6]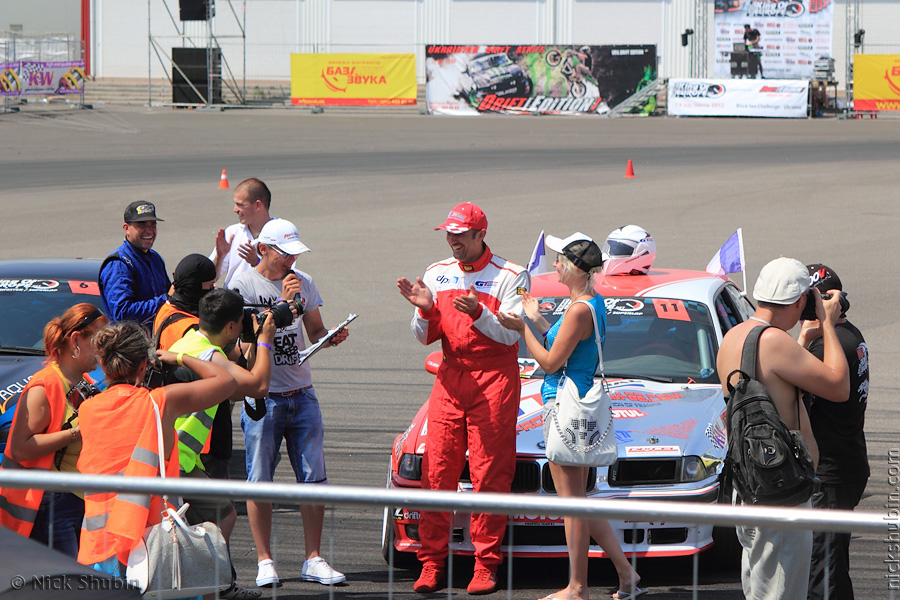 Turkish pilot Ali Atacik.
[7]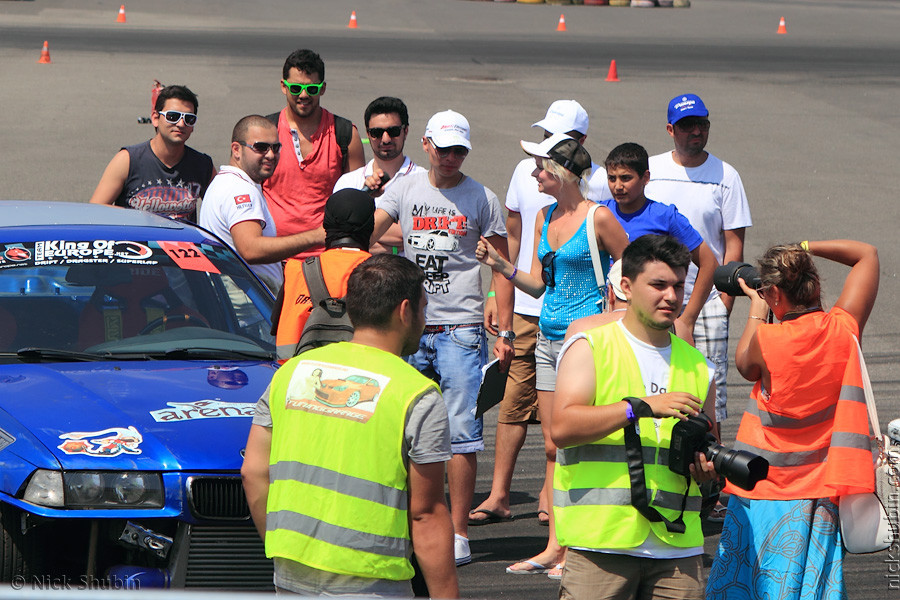 [8]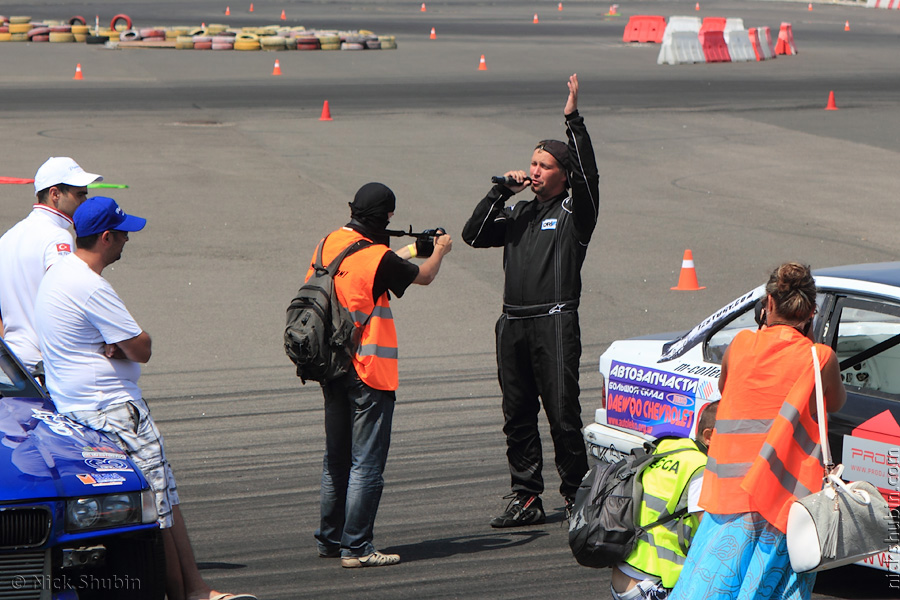 [9]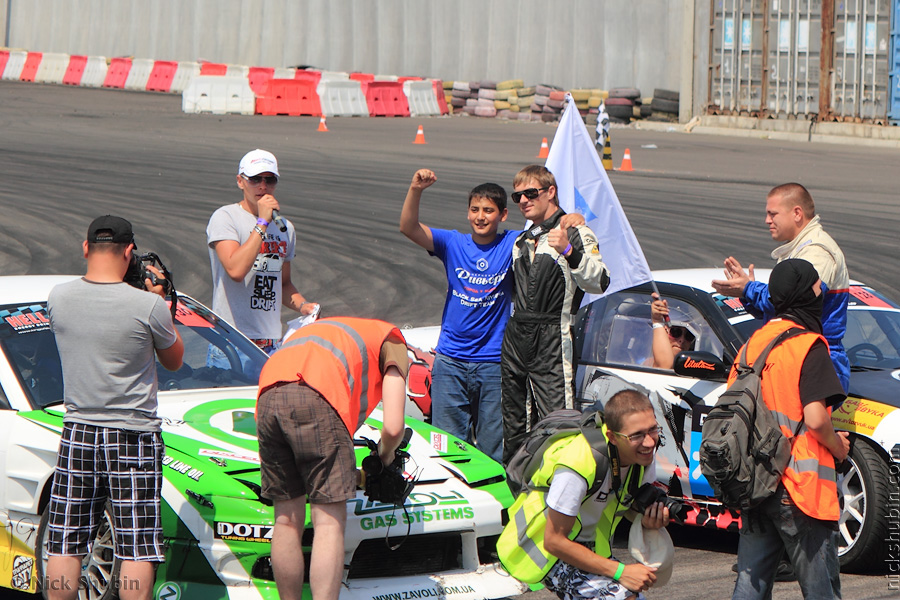 After the presentation, the pilots are leaving the track together with beautiful Ukrainian girls who are supporting the drift teams and sponsors.
[10]

The battle has begun. Adam Frank (in front) and Francesco Conti. Conti follows the leader precisely.
[11]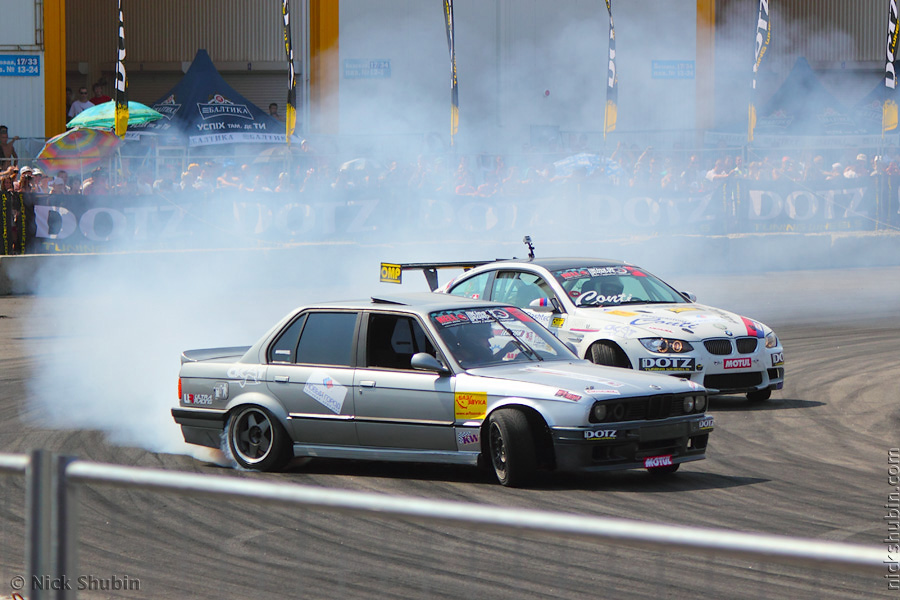 Adam Kerenyi (Hungary) in BMW E36 M5 is the leader now.
[12]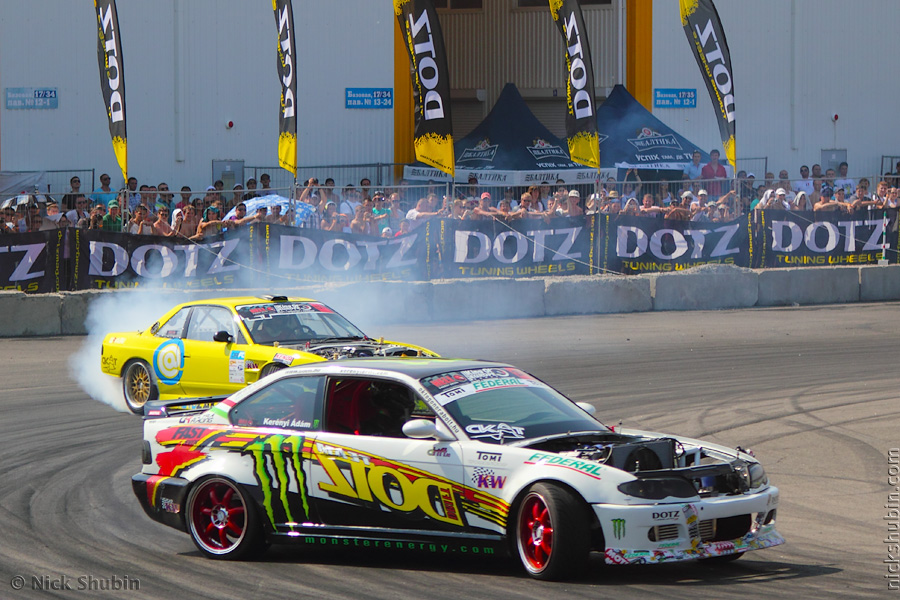 [13]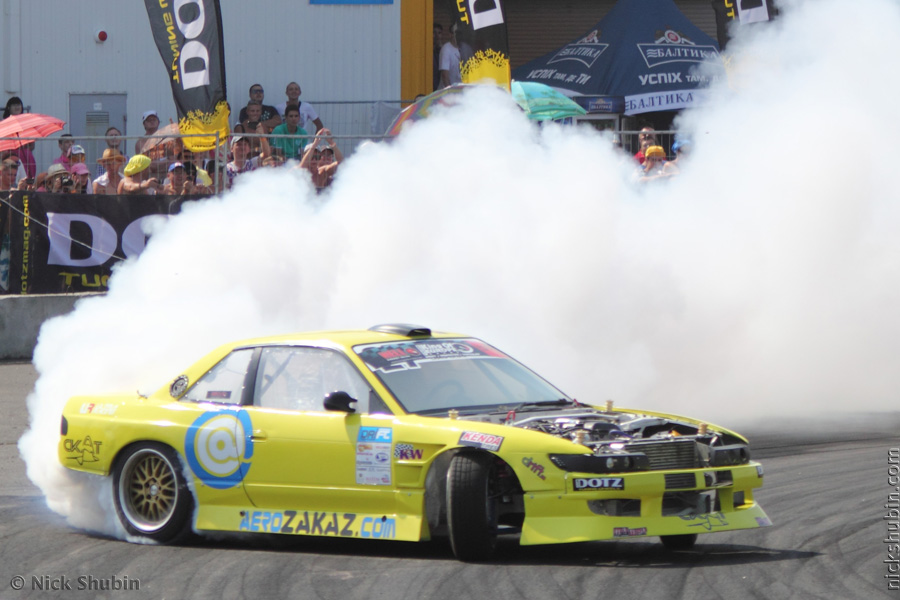 [14]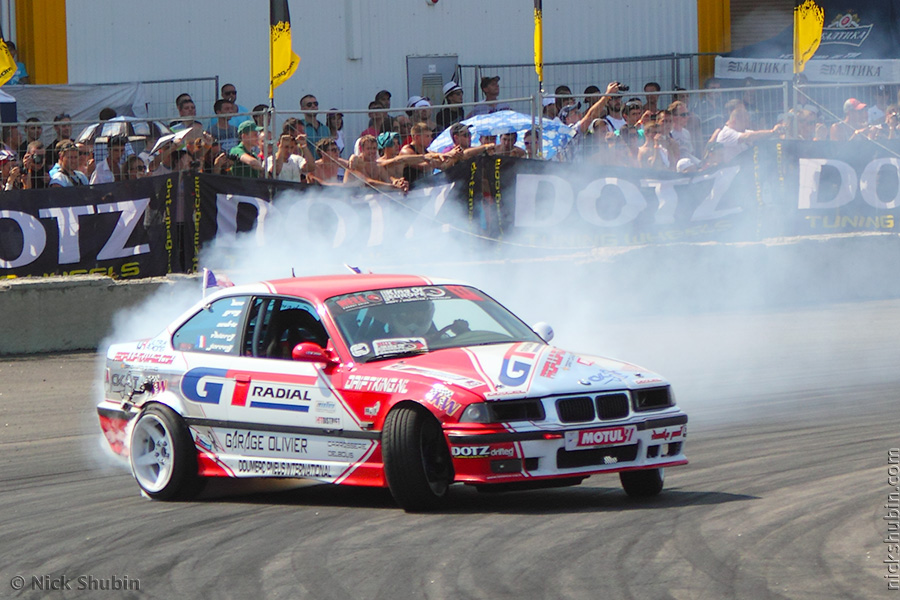 Following the leader, one needs to pass through the dense smoke. Vladislav Barbash (aka GANGSTER) rides Nissan S14.
[15]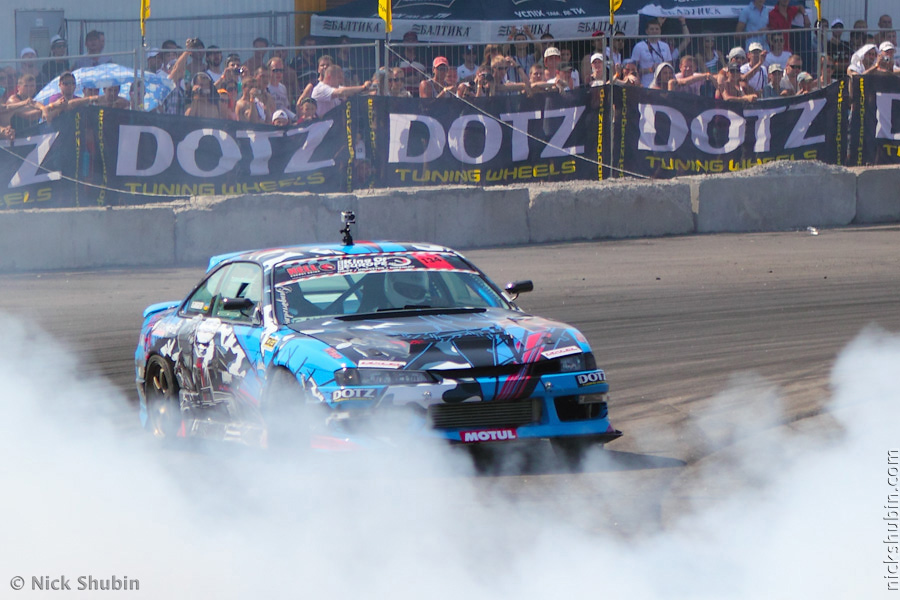 Vladimir Paraliev (Ukraine) rides BMW E30.
[16]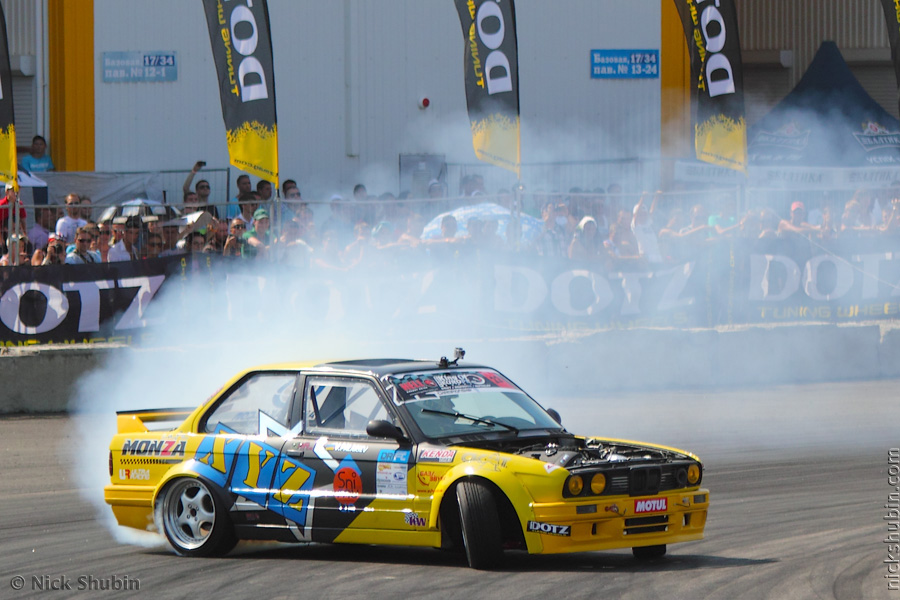 [17]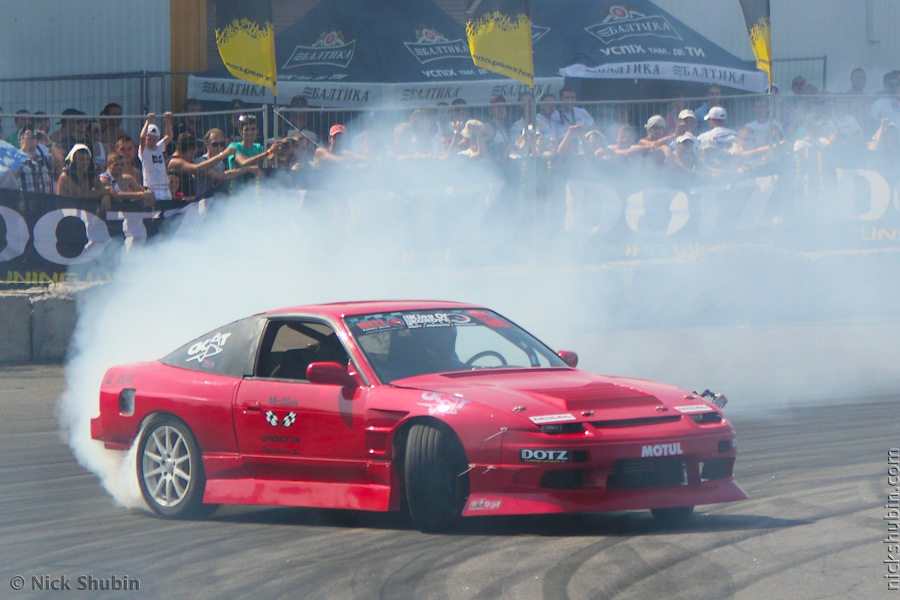 The heat has made the races tough either for drivers and cars. Some couldn't continue because of technical reasons.
[18]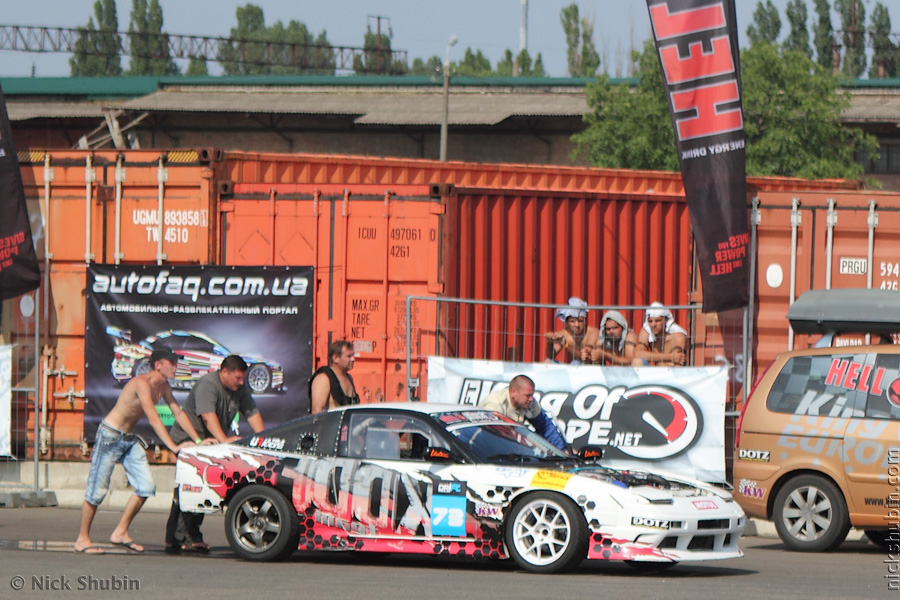 Francesco Conti (Italy) in BMW E92 M3 battles against Vitaliy Lutyi (Ukraine) in Nissan S13. "Green" Nissan is a natural gas vehicle (NGV) what is quite rare for drifting.
[19]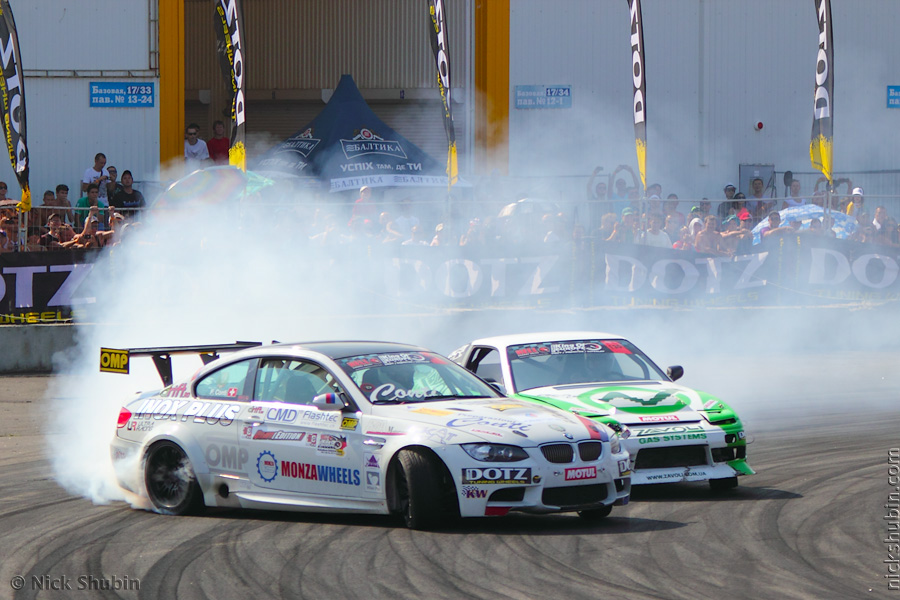 Francesco Conti.
[21]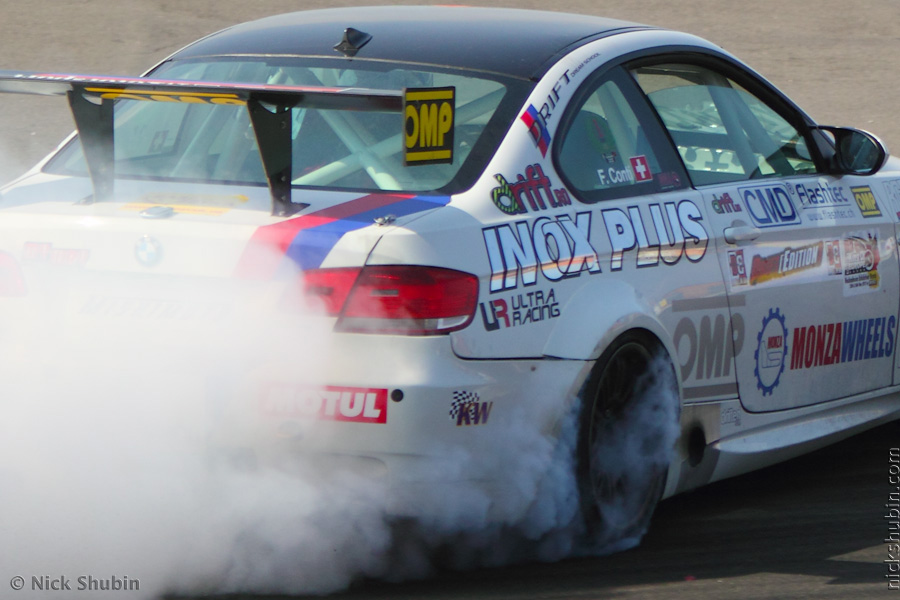 Vitaliy Lutyi is the leader. Francesco Conti is right behind him.
[22]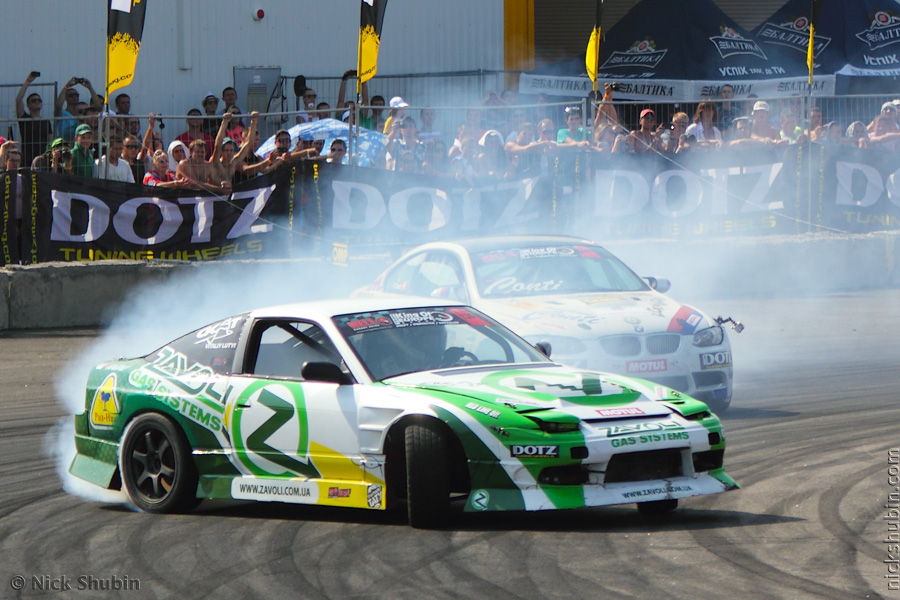 Italian Amerigo Monteverde rides BMW E46. After Rd4 of King of Europe, he is at the fifth place.
[23]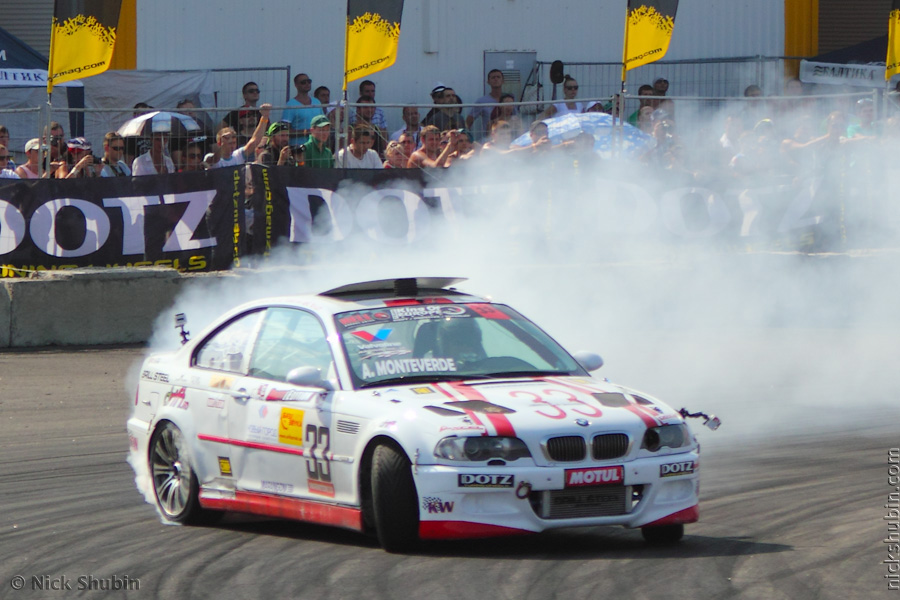 Press photographers suffered from the heat more than anybody other. They took place inside the track circle. There wasn't any shade. This one has poured water into his cap and lets it drop onto his head.
[24]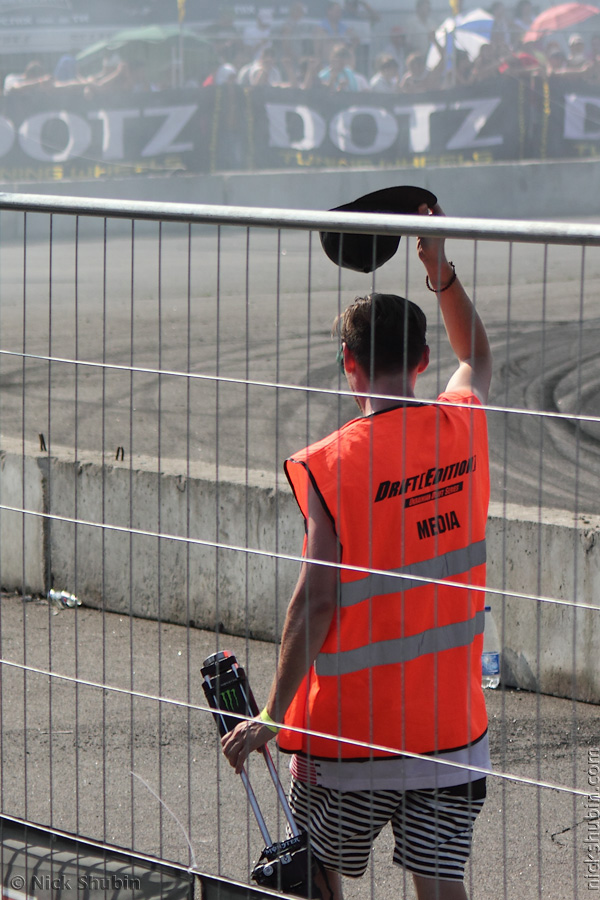 Kolesar Roman (Slovakia) flashes by very close to a camera man who didn't notice that he approached the very edge of the track.
[24]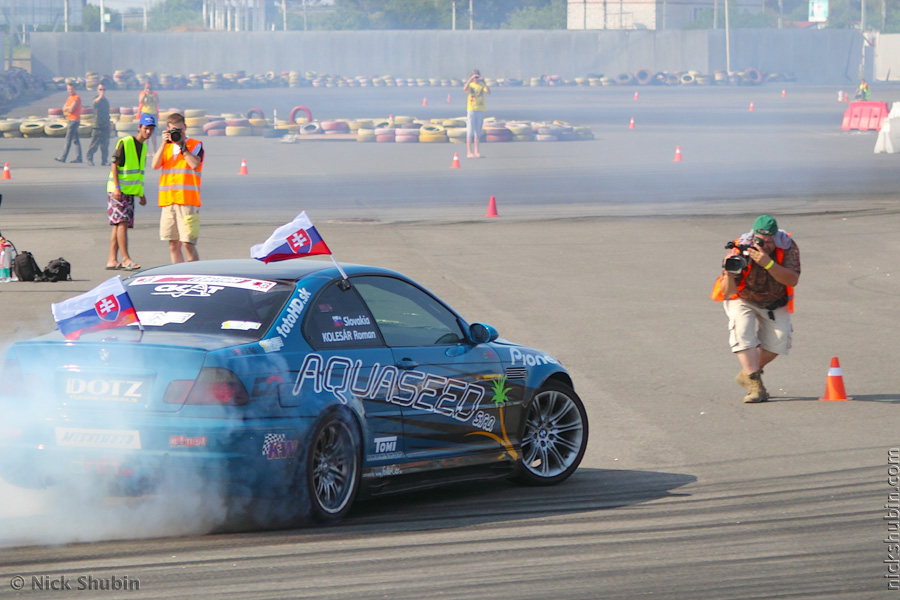 ---
© 2016 Nick Shubin. All rights reserved.